On all of our upcoming safaris you'll visit some of Africa's premier parks renowned for outstanding wildlife viewing, stay at luxurious camps and lodges, and travel in the company of experienced safari guides. Whether contemplating your first trip or planning your return—we've got the perfect safari for you!
Remote Tanzania
August 8 — August 24, 2018
Tanzania is one of Africa's most popular safari destinations, and rightfully so. With some of the world's largest concentrations of wildlife, this is the Africa of your dreams. Discover the country's lesser-known (and less crowded) parks where you will search for wildlife during game drives, walking safaris, river and lake cruises, and hikes along forest trails.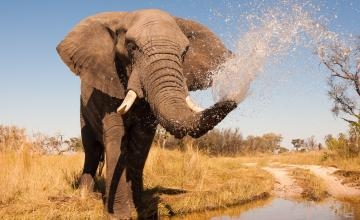 Signature Botswana
April 23 — May 5, 2019
Botswana's Okavango Delta is a UNESCO World Heritage Site where all of Africa's classic wildlife thrives in a pristine environment. This exciting itinerary is timed during the beginning of the dry season, when large concentrations of animals gather around the dwindling water sources. On this comprehensive safari you'll explore a wide variety of habitats, from desert to wetlands to forest.
Amazing Namibia by Private Plane
September 22 — October 8, 2019
Namibia is a remarkable destination combining unique desert-adapted wildlife with otherworldly scenery. In addition to searching for the Big Five and a variety of endemic species, you'll meet the Himba people, one of Africa's last nomadic tribes. Photographers will thrill to the stunning variety of subjects, from the massive Sossusvlei Dunes to the rugged Skeleton Coast.
Iconic Africa: Kenya & Zimbabwe with Victoria Falls
June 18 — 30, 2019
This adventure combines two amazing safari destinations—Kenya and Zimbabwe—offering an intriguing look at both Eastern and Southern Africa. Explore the legendary Maasai Mara with a Maasai guide, feel the spray of mighty Victoria Falls, spend two full days in Hwange National Park, and enjoy incredible wildlife viewing throughout.
Ultimate Botswana
April 28 — May 14, 2019
Truly the ultimate exploration of this diverse country, you'll delve deep into the prime wildlife areas of Botswana, where you'll meet all the major wildlife, from elephants and lions to hippos and cheetahs. Travel by land and in traditional dugout canoes, and stay at luxurious camps that evoke the romance of a bygone era.
Madagascar
September 27 — October 14, 2019
Madagascar is famous for its variety of charismatic creatures, from colorful chameleons to photogenic and engaging lemurs. In fact, an amazing 90% of the species found here are endemic to the island! Discover a huge variety of habitats as you search for wildlife and meet with the lovely Malagasy people.