Villa holidays are a popular choice for families – and it's easy to see why. Villa living offers all the comfort you'd expect in a home away from home and are the ideal solution when you're seeking privacy, freedom and flexibility.
Tots to teenagers will love the sense of freedom as they make a splash in the shimmering pool (protected by alarms, gates or pool covers) or just chilling out in the gardens or games room.
---
Families with Infants

Languish in the infinity pool, protected by a pool cover, relax in the shaded, step-free garden or let off some steam in the private playground. Why not make it a family affair and choose a villa with its own cottage and take the grandparents?
La Cachette, Cote d'Azur
Sleeps 8+2 | From £5,266


La Limonaia, Tuscany
Sleeps 16 | From, £7,617
---
Children aged 4+

We know youngsters can sometimes have a short attention span, so you'll find an Aladdin's cave of activities in the games room and state-of-the-art cinema rooms with age-appropriate DVDs. We've thought about every luxurious detail, so you can make the most of precious family time.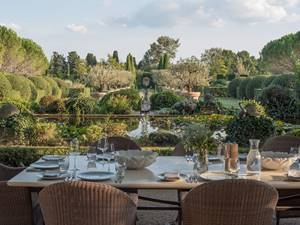 Le Jardin d'Eden, Provence
Sleeps 10 | From £14,178

Villa Estila, Majorca
Sleeps 8+6 | From £10,418


---
Children aged 8+

Youngsters don't have to stray far from home to enjoy outdoor trampolines or table tennis tucked away on shaded terraces. Spacious interiors and games rooms will keep them amused, leaving you free to toast the day with a sundowner.
Can Masta, Majorca
Sleeps 8+2 | From £5,174


Le Mas Des Trois Platanes, Provence
Sleeps 20 | From £13,282


---
Teenagers
Book a villa with a cottage and give your teens their first taste of independence. No need to compromise on family time though; share an alfresco dinner before choosing a movie to enjoy together in the cinema room.

Podere le Colline, Tuscany
Sleeps 18 | From £14,321


Le Biarrot, Biarritz
Sleeps 6 | From £2,876

Interested in Multi-Generational Travel?